Millennials Make Up Almost Half of Latino Eligible Voters in 2016 [REPORT]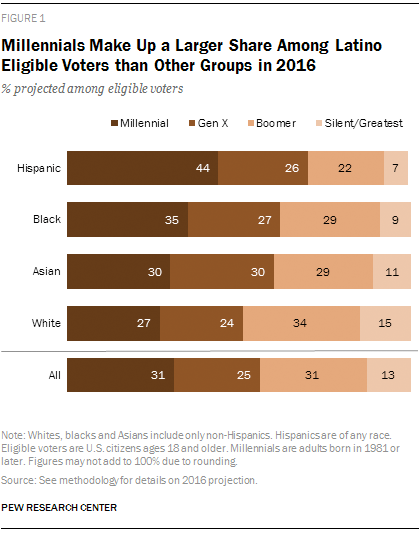 Millennials Make Up a Larger Share Among Latino Eligible Voters than Other Groups in 2016Hispanic millennials will account for nearly half (44%) of the record 27.3 million Hispanic eligible voters projected for 2016—a share greater than any other racial or ethnic group of voters, according to a new Pew Research Center analysis of U.S. Census Bureau data.
The large footprint of Latino millennial eligible voters reflects the oversized importance of youth in the U.S.-born Latino population and as a source of Latino eligible voter growth. The median age among the nation's 35 million U.S.-born Latinos is only 19 (Stepler and Brown, 2015), and Latino youth will be the main driver of growth among Latino eligible voters over the next two decades. Between 2012 and 2016, about 3.2 million young U.S.-citizen Latinos will have advanced to adulthood and become eligible to vote, according to Pew Research Center projections. Nearly all of them are U.S. born—on an annual basis, some 803,000 U.S.-born Latinos reached adulthood in recent years.
To download report CLICK HERE.