NAHP announces new leadership and Miami Convention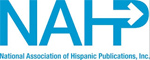 The National Association of Hispanic Publications (NAHP) announces their Annual National Convention in Miami Florida that will be taking place from November 5th to -7th at the Atton Brickell Miami. New leadership on the Executive Board includes, Fanny Miller, Interim Chair;, Mary Flores, Secretary;, Pauline Rivera, Marketing Director; and, Jose Zepeda, Jr., Interim Treasurer.
Under a new leadership, NAHP represents membership Hispanic print publications across the country, including Puerto Rico. There are over 600 Hispanic print publications that provide ongoing information in Spanish or bilingual format reaching the fastest growing population, the Latino market.
"We are excited to come to Miami and to invite or new and old members to this year's Convention., Hispanic publications have been the voice of our communities and now more than ever it'is important to be united", stated Fanny Miller.