National Association of Hispanic Journalist backs down from hostile action against members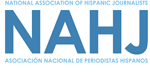 On April 16, the National Association of Hispanic Journalist (NAHJ) board announced, in a press release posted on NAHJ.org, that it had voted to cancel national board elections and extend, for another year, the terms of board members, including those of the president and the rest of the executive board. This move encompassed both elected and appointed board members.
According to the press release, "the board voted to temporarily limit any unnecessary radical change in the interest of preserving a strong and effective organizational foundation." The release went on to say that "each election cycle takes a financial toll on the organization…" To read full text of letter from discerning members, CLICK HERE.
The NAHJ president elect Hugo Balta and the NAHJ Board, were taking action against the charter of the the association and the will of members that was not received well by its members.
In a Town Hall meeting Board members and Mr Balta, encountered members that disagreed with their hostile intent, CLICK HERE.
After several contentious attempts by NAHJ members, past director sand legal counsel, the Board conceded and has agree for election some time in November 2020.
We hope that this occurs for the good of our Industry. We thank Media Moves for their efforts in covering the story and helping persuade the NAHJ to change their decision.