NGL Studios at IAB Digital NewFronts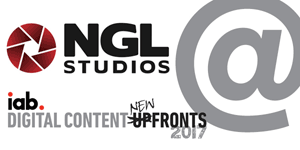 The IAB has announced NGL Studios, part of NGL Media (co-founded by actor John Leguizamo), will be participating at the 2017 Digital Content NewFronts in New York City, where it will be presenting original digital content programs and platforms for U.S. Latino and multicultural millennial audiences, and advertisers seeking to engage them. Since 2012, the NewFronts have been digital media's answer to the television upfront presentations, with the hope of attracting ad dollars away from traditional media.
The NewFronts have brought top-tier digital media producers such as Google, Disney and Hulu together with the advertising community. As the lone NewFront presenter this season to focus solely on the Latino and multicultural market sectors, NGL joins over 30 companies slated to pitch clients and agencies this year. Other presenters include AwesomenessTV, Bloomberg Media, Business Insider, Condé Nast Entertainment, Defy Media, DigitasLBi, Group Nine Media, Hearst Digital Media, the New York Times, Time, Inc., Turner and Vice Media.
This year's NewFronts take on special significance, as for the first time, total digital revenue surpassed traditional television. In a white paper released this month, the IAB reports digital spending grew 22 percent in 2016, capturing $72.5 billion in advertising revenue. Traditional television brought in $71.2 billion last year, according to eMarketer.
NGL Studios hopes to capitalize on digital video's rapid growth by offering insight around the elusive Latino and multicultural millennial audiences, who together represent nearly half of the highly coveted millennial population in the U.S.
"43% of all millennials come from multicultural backgrounds," says NGL CEO David Chitel. "You can't reach 18-to-34 year olds anymore without paying close attention to Latinos and other ethnic segments who are also consuming and creating digital video content at higher rates."
NGL Studios is part of NGL Media, which was co-founded by Chitel and Hollywood star, John Leguizamo, as recently covered in Adweek.
NGL's holistic branded content programs are uniquely crafted to connect with Latino and multicultural millennial audiences who are as fragmented as the platforms through which they consume video, often toggling between formats and languages requiring a highly nuanced approach. In its NewFront presentation, NGL will dive deep into how this model works.
Special announcements will also be made about NGL's forthcoming mobile-first platform that will be unlike anything in the multicultural marketplace, as well as mainstream celebrity-driven projects designed to appeal to culturally-diverse digital audiences.
Fortune 500 advertisers including P&G, Ford Motor Company, Diageo, Amtrak, Fiat Chrysler, PepsiCo and many others have produced original digital-first branded entertainment programs through NGL's award-winning Studios division.
NGL's NewFront presentation will be taking place on Friday, May 12th from 9am – 11am at the IAB Ad Lab in New York City. First 10 people to CLICK HERE and register will receive special entry, and further information about the event. All RSVP's are first come, first served, limited to one per person and non-transferable.