Print Promotions Remain Pillar for US Grocery Coupon Cutters

Traditional marketing methods continue to have a strong influence over deal-seeking supermarket shoppers. According to The Retail Feedback Group's July 2014 online survey of 1,200 adult shoppers who visited a conventional supermarket within the last 30 days, coupons delivered via print remain a popular go-to when it comes to saving money on groceries.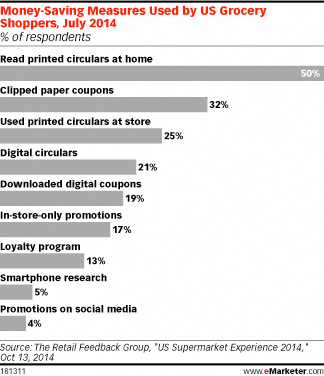 Half of all shoppers surveyed read printed circulars at home to find deals for their last visit to the supermarket, while nearly a third clipped paper coupons obtained via newspapers or other printed sources, and a quarter used a printed circular in-store.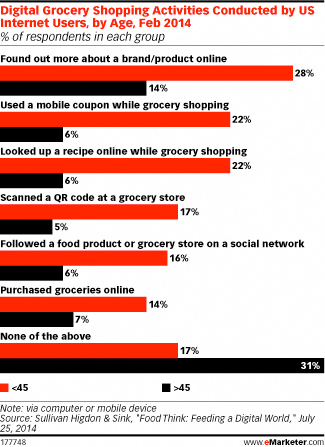 Compared with printed coupons, money-saving methods offered through digital channels still have a long way to go to catch on with core supermarket shoppers. The survey found that about one in five respondents used a digital circular or downloaded digital coupons during their last grocery trip, and only a sliver of those surveyed conducted research on smartphones or used social media promotions to save money.
Naturally, consumers partaking in these digital measures to conserve cash skew younger compared with those using offline money-saving activities. According to research from advertising agency Sullivan Higdon & Sink conducted in July 2014, internet users 45 and younger are more likely to partake in digital grocery shopping activities than older adults. These younger consumers are twice as likely to find out more about a brand or product online and lead by 16 percentage points when it comes to using a mobile coupon or looking up a recipe online while grocery shopping.
Nearly a third of respondents 45 and older did not engage in any of the digital grocery activities included in the survey, though as online and mobile become more entrenched with these users' everyday lives, it's likely that a significant portion of this audience will eventually engage with digital for their grocery needs.
While print remains a mainstay for most cost-cutting consumers, its popularity over digital couponing is largely due to its wide lead in distribution. Data released by NCH Marketing Services earlier this year indicated that over 90% of coupons for consumer packaged goods were obtainable via freestanding inserts, while less than 2% were available through digital modes. Bearing in mind digital's minuscule share of coupon distribution, shoppers' engagement with digital money-saving methods is actually quite strong.
Courtesy of eMarketer