RadioInk Medallas de Cortez Finalists Named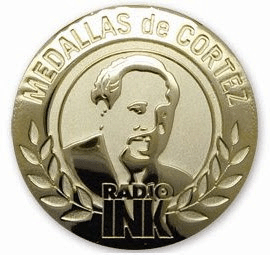 Only seven will carry home the prestigious award. And, the only place winners will be announced is at the live and in-person Hispanic Radio Conference, scheduled for September 22-23 in Miami, Fla.
The 2021 Medallas de Cortez finalists have been revealed.

The awards, sponsored by vCreative, honor the best in Hispanic radio and are named for Raoul Cortez, founder of the first full-time commercially licensed Spanish-language broadcast media property in the U.S.: KCOR-AM in San Antonio.
In addition to honoring the winners in each of these categories, this year's presentation will be part of a festive ceremony beginning with a musical tribute by BMI songwriter and recording artist Elston Torres to Emilio Estefan, who will receive the Medallas Distinguished Leadership award.
A gala cocktail reception will immediately follow the awards.
Here are this year's finalists:
Marketer of the Year
Elisa Torres
AIRE Radio Networks
Julie Garza
Curtis Media Group, WYMY-FM, Greensboro-Winston Salem-High Point, NC
Karina Cerda
Entravision Communications, KLYY-FM, Los Angeles, CA
Stacie de Armas
Nielsen Audio
Doug Brisotti
Curtis Media Group, WYMY-FM, Greensboro-Winston Salem-High Point, NC
Local Personality of the Year
Dani Lomeli
AeroStar Media, KNIV-FM, Salt Lake City, UT
Patricia De Lima
Audacy, WLZL-FM, Washington, DC
Ana Maria Caraballo
JVC Broadcasting, WBON-FM Nassau/ Suffolk, NY
Maria Del Pilar
Mega Philadelphia, WEMG-AM/FM, Philadelphia, PA
Angelica Vale
Meruelo Media. KLLI-FM, Los Angeles, CA
William Franco
Spanish Broadcasting System, WXDJ-FM, Miami-Ft. Lauderdale-Hollywood, FL
Raul Brindis
Univision, KLTN-FM, Houston-Galveston, TX
Syndicated/National Personality of the Year
Alberto Cortez
AIRE Radio Networks
Enrique Santos
iHeartMedia/iHeartLATINO
Edgar 'Shoboy' Sotelo
Shoboy Productions
Raul "Rico" Colindres
Skyview Networks, Carmen's Calls
Stephanie Himondinis
Stephanie Himondinis Media
Dana Cortez
The Dana Cortez Show, Skyview Networks
El Bueno, La Mala, y El Feo
Univision
Program Director of the Year
Candy Cintron
Audacy, WLZL-FM, Washington, DC
Estee Martin
Cox Media Group, WOEX-FM, Orlando, FL
Andrea Bederra
Entravision Communications, KRCX-FM, Sacramento, CA
Jorge Melendez
Mega Philadelphia, WEMG-AM/FM, Philadelphia, PA
Elena Jovel
Spanish Broadcasting System, KRZZ-FM, San Francisco, CA
Arturo Sosa
Spanish Broadcasting System, WSKQ-FM & WPAT-FM, New York, NY
DOS/Sales Manager of the Year
Debbie Flores
Entravision Communications, KKPS-FM, McAllen-Brownsville, TX
Armando Lapido
iHeartMedia, WZTU-FM, Miami-Ft. Lauderdale-Hollywood, FL
Mari Velazquez
Lazer Broadcasting, KMQA-FM, Bakersfield, CA
Crystal Gomez
Entravision Communications, KLYY-FM, Los Angeles, CA
Patty Valdes
Spanish Broadcasting System, WXDJ-FM/WRMA-FM/WCMQ-FM, Miami-Ft. Lauderdale-Hollywood, FL
Eric Garcia
Univision, New York, NY
Market/General Manager of the Year
Shirley Davenport
Curtis Media Group, WYMY-FM, Greensboro-Winston Salem-High Point, NC
Humberto Hormaza
Entravision Communications, WNUE-FM, Orlando, FL
Dr. René Heredia
Guadalupe Radio, KZNO-FM, Los Angeles, CA
Mark Masepohl
Univision, KLNO-FM, KFZO-FM, KDXX-FM, KFLC-AM, KESS-FM, Dallas-Ft. Worth, TX
Sabina Widman
Univision, KLNV-FM, San Diego, CA
Station of the Year
KNIV-FM
AeroStar Media, Salt Lake City, UT
WCMQ-FM
Spanish Broadcasting System, Miami-Ft. Lauderdale, Hollywood, FL
WLZL-FM
Audacy, Washington, DC
WRUB-FM
iHeartMedia, Tampa-St. Petersburg-Clearwater, FL
WSKQ-FM
Spanish Broadcasting System, New York, NY
WXNY-FM
Univision, New York, NY