Sandoval joins GLR Networks in Infopinion Program
GLR Networks is pleased to announced the addition of journalist Neida Sandoval, and their new Infopinion radio show to their Spanish language programming geared towards Hispanics living in America. Self-titled, "Neida Sandoval", is formatted to specifically target Mexican Regional stations and covers all current topics that affect the lives of today's Latinos. Such topics include: society, family, economics involving day-to-day life, and the social aspect of health, among others.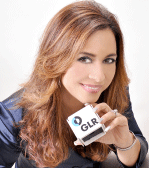 September 9th, 2013 marks the official launch date of "Neida Sandoval" in the Los Angeles market on 690AM (XEWW) with later plans focusing on national syndication. However, listeners who currently fall outside of coverage can tune in live from 1pm-3pm PT via, wradio690.com.
In addition to hosting the new infopinion show, Sandoval will head popular top-of-the-hour headline newscast, "Minuto 60" starting September 9th. In this she'll be covering the most important national and international news, with special attention to news from Mexico. With Sandoval and the valuable support and access to PRISA Radio's vast network of talk/news/sports journalists and correspondents in 22 countries, GLR News Services offer the best quality with the most diverse and tailored offerings available in America. Minuto 60 is currently aired in 70 markets: Los Angeles, Miami, Houston, El Paso, and San Francisco, to name a few.
GLR is sure that the market will respond positively to one of the most beloved personalities in Hispanic broadcasting in the US. and Latin America. "Her journalistic credibility, charisma, the natural connection she has with the audience and her great heart makes Neida Sandoval the perfect person to lead the Minuto 60 team. But not only that, the reality is that there's no one better than her to speak on equal terms with listeners about the events that affect them every day. Her 2-hour program will also be a success.," added Sachari Milian, Programming & Content Director for GLR Networks.

When asked about her new projects, Sandoval responded, " GLR Networks is part of a global company that is providing me a great opportunity to create my own live daily program with my own personal stamp. I'm happy with the launch of my radio program and I will have the pleasure of talking directly with my audience which has supported me all this time I've been off of the screen and microphones."