Telemundo Deportes gears up for Olympic Coverage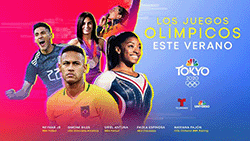 Telemundo Deportes, gears up to present the most extensive Olympic coverage ever in Spanish-language media with over 300 hours of programming. Telemundo network will present 187 hours of live competitions and daily recap specials, while its cable network Universo will provide 122 hours of live coverage. The entire linear offering will also be available live via TelemundoDeportes.com and the Telemundo Deportes app. Coverage kicks off Wednesday July 21 with the Women's Soccer Competition live on Universo at 3 a.m. ET/12 a.m. PT.
"We are getting ready for another historic Olympics presentation at Telemundo that will provide fans the most extensive and authentic coverage ever, featuring their favorite sports competitions and inspiring stories," said Ray Warren, President, Telemundo Deportes. "Telemundo will cover the biggest stories of the Games, with a focus on the sports Latinos are passionate for like soccer, boxing and basketball. We want our audience to experience the best performances across disciplines, and the most compelling stories of the Hispanic athletes on their quest to make history."
During the Olympics, on most days Telemundo and Universo will present at least 12 hours of live sports coverage throughout the night and early morning. In addition, Telemundo will present a two-hour recap show highlighting the best Olympic stories of the day, every weekday at 1 p.m. ET/PT beginning Monday, July 26 through Friday, August 6.
Telemundo Deportes' 17 days of coverage of Tokyo 2020 will cover the Games' biggest stories, with a focus on soccer and other sports competitions relevant to the Latino audience, including boxing, basketball, baseball, volleyball, beach volleyball. The coverage will also highlight the top stories that appeal the most to the audience and in which Latin American teams are strong contenders. In addition, Telemundo Deportes will complement NBC's primetime coverage of Team USA and popular competitions like swimming, diving, athletics and gymnastics with daily recaps and highlights.
Leading to the start of the Olympics Telemundo Deportes will present two special preview shows:
Tokyo 2020: En Busca del Sueño Olímpico (In Search for the Olympic Dream), a one-hour look into the stories around the hundreds of athletes who will experience the Olympics this summer, their origins, their motivations and the drive that pushes them to fight for their dreams and never give up. The show will air Saturday, July 17 on Telemundo at 5 p.m. ET/PT followed by a re-air on Universo at 8 p.m. ET/PT.
Tokyo 2020: El Camino Dorado (The Golden Path), an inside look at the Olympics, the top stories to follow and the nuances of the host city. The show will air on Wednesday, July 21 at 7 p.m. ET/PT on Telemundo and 10 p.m. ET/PT on Universo.
To complement the extensive Olympics programming, Telemundo Deportes' digital platforms will provide fans with over 1,000 pieces of short-form video and editorial content that will include special series, highlights, top news, live results, medal count, best of Tokyo and athlete profiles, and much more.