"Terra Live Music in Concert" Kicks-Off 2014 with Latin Superstar Juanes in a Global Live-Stream Event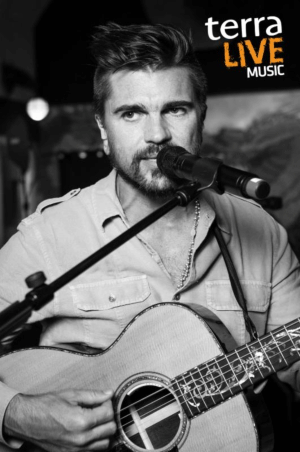 Terra, a global digital media company and content producer with a presence in 19 countries, is proud to announce "Terra Live Music in Concert" with Juanes, an exclusive live-streaming music performance featuring the vibrant Grammy-winning superstar Juanes, on Wednesday, March 12th at 10:00pm ET to debut his upcoming new album "Loco de Amor" ("Crazy from Love") which will be released globally the day prior.
During the concert, the award-winning composer will give the live premiere of select songs from his highly anticipated new album, including his first single, "La Luz" (The Light) – which has been called a dynamic, seductive, engaging and exhilarating track. Having set airplay records in multiple countries upon its debut, "La Luz" is currently the top song on Billboard's "Latin Airplay" chart – giving Juanes the ninth #1 single of his career. In total, the song has reached #1 in 15 countries- including Colombia, Mexico, Argentina, the U.S. & many more.
This "Terra Live Music in Concert" event, sponsored by Dunkin' Donuts, KRAFT Macaroni & Cheese, Pepsi and Sprint will be transmitted in HD via computers, smartphones and tablets, allowing fans to watch the concert free online at www.terra.com/juanes and publish comments on social media using the hashtags #TerraLiveMusic, #Juanes, #JuanesTerra, #LocoDeAmor and #LaLuz.
"We're thrilled that KRAFT Macaroni & Cheese is partnering with Terra once again to present this interactive online performance. This event is especially exciting because it's Juanes' first performance since the release of his new album," said Sara Braun, Senior Director, KRAFT Macaroni & Cheese.
"Sprint is thrilled to continue its partnership with Terra and harness their Terra Live Music platform to engage our shared audiences," said Kymber Umana Sprint Hispanic Marketing Manager. "Being a leader in the wireless communication industry, we are always looking for ways to ensure our customers and their Framilies have immediate access to their favorite artists, events and content via their mobile devices, whenever they want," added Umana.
"We are honored that Juanes and Universal Music have chosen "Terra Live Music" for his first live stream of his new album," indicated Liz Sarachek Blacker, Chief Revenue Officer of Terra USA. "In just two years, "Terra Live Music" has grown exponentially and engaged hundreds of thousands of our Latin music fans around the world and especially here in the US Hispanic market," added Sarachek Blacker.
"Terra is on the leading edge of entertainment for today's consumer, this partnership places one of the world's top Latin stars at the fingertips of the entire world," said Gustavo Lopez, EVP Brand Partnerships & Digital, Universal Music Latin Entertainment.
For more information about Juanes and "Terra Live Music in Concert", CLICK HERE.