U.S. Bank launches nation's first Spanish-language voice assistant for banking

U.S. Bank is the first financial institution in the United States to offer an experience Spanish-speaking customers have never had before: the ability to bank via mobile app in their preferred language – just by speaking it.
U.S. Bank has launched Asistente Inteligente de U.S. BankTM, a Spanish-language version of our best-in-class Smart Assistant in the U.S. Bank Mobile App. Smart Assistant is one of just two banking voice assistants awarded Corporate Insight's highest rating of "Excellent," and Asistente Inteligente has all the same features and functionality as the popular English language version.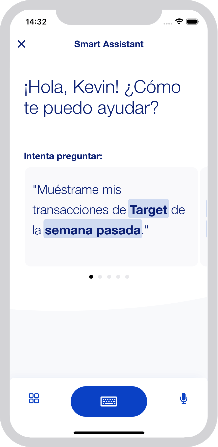 "Asistente Inteligente is the first Spanish language virtual assistant of its kind in the United States, offering Spanish-speaking customers the very best digital banking tools from U.S. Bank," said Dominic Venturo, chief digital officer at U.S. Bank. "This not only builds on U.S. Bank Access Commitment™, our long-term approach to help diverse customers build wealth, but also demonstrates our continued emphasis on putting customer experience first, by creating new digital tools that enable them to bank however, whenever and wherever is best for them."
"Sometimes language can be a barrier to accessing best-in-class financial services, and U.S. Bank is focused on eliminating barriers," said Ramiro Padilla Klein, U.S. Bank vice president for Hispanic segment strategy. "Asistente Inteligente is an innovative first-in-the-industry technology, which shows Latino and Hispanic Americans that we're here for them. They can confidently ask questions in their preferred language with this new financial tool."