Warner Bros., Discovery U.S. Hispanic, GroupM & Cocina Media cook up EL TOQUE DE AARÓN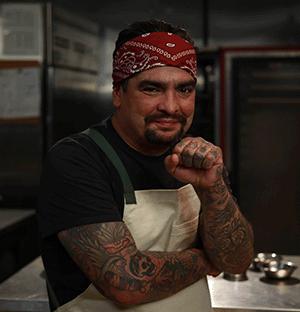 Warner Bros. Discovery U.S. Hispanic announced its latest content partnership with GroupM and COCINA Media, a multicultural owned-and-operated content and digital media company, to bring high-quality, culturally-relevant programming created for Hispanic audiences in the United States. Together, they have teamed up once again with beloved celebrity chef and Executive Producer Aarón Sánchez on EL TOQUE DE AARÓN, an all-new original series following Sánchez and his team as they help Latino restaurants in the Los Angeles area reach new heights. Kimberly Clark's VivaÒ Paper Towels Brand is confirmed as an integrated sponsor, with other GroupM clients featured throughout the series. EL TOQUE DE AARÓN is slated to premiere on Monday, April 17 at 10 PM E/P on Discovery Familia, and will also air on sister network Hogar de HGTV.
"Warner Bros. Discovery's U.S. Hispanic networks continue to be regarded as leaders in the multicultural marketing space," said David Tardio, Vice President, Integrated Ad Sales and Marketing, Warner Bros. Discovery's U.S. Hispanic. "When brands look to better target the Latino audience segment, they come to us because of our decades of experience and our trusted insights: we know our audience, their interests, and their passions. In turn, we look for the same authenticity in our partners, and are thrilled for another opportunity to link up with COCINA Media and GroupM on this exciting new series."
"At GroupM, we are proud of our ability to integrate the brands we serve into culture-defining properties like EL SABOR DE AARÓN while accessing premium talent and partners. To create a more vibrant media marketplace, it is critical that we focus our attention on enhancing media owners and properties that drive positive cultural influence. We are thrilled to be part of the journey to elevate the passions and stories that will truly resonate with consumers." Gonzalo Del Fa, President GroupM Multicultural.
"We are proud to have the recurring trust and support of some of the world's most influential partners like GroupM and Warner Bros. Discovery, allowing us to create – and then continue to create – premium content for U.S. Hispanic audiences. This series is particularly close to our hearts, executive produced and starring our company's co-founder Aarón Sánchez and dedicated to the goal of uplifting Latino businesses," said Sarah North, Chief Creative Officer, COCINA Media.
In this six-part series, EL TOQUE DE AARÓN showcases Latino restaurants in L.A. with great potential, ready to seize the opportunity to optimize their business – from menu composition and aesthetics to execution and awareness. Enter Chef Aarón Sánchez, who will reimagine these restaurants to bring out their true soul, with a revamped menu and a refreshed space. In each 30-minute episode, Aarón will put his personal touch on each menu item, while mentoring each restaurant's chef and sharing tips and tricks of the trade along the way. Helping to round out the renewals with much-needed renovations are designer Cris Mercado (HGTV Star; Remodelaciones con Celebridades) and project manager Ángel Riveros (Hogar Star). With only four days to achieve this mission, the pressure is on – will Aarón and team be able to get these diamonds-in-the-rough back on track and thriving?
EL TOQUE DE AARÓN is Warner Bros. Discovery U.S. Hispanic's third content partnership in the past 12 months with COCINA Media and its second with Aarón Sánchez, who co-founded COCINA as a vehicle to authentically connect with US Hispanic fans on digital platforms. Other titles include EL SABOR DE AARÓN (Hogar de HGTV and Discovery Familia – Spring 2022), a cooking competition series where two Hispanic chefs participate in challenges designed to highlight their unique take on the Latino culinary tradition; and QATAR LATINO, RUMBO AL MUNDIAL(Discovery en Español – Fall 2022), a limited series following eight Latinos who have rebuilt their lives in Doha, Qatar, amid the 2022 World Cup. In addition, Hogar de HGTV has featured COCINA Media's short-form how-to recipes on-air and across digital platforms since 2020, inspiring Hispanics who love food to up their game and try something new.