Covering Latino Consumers: The History of B2B Trade Journals for Hispanic Advertisers, Marketers and the Media Industry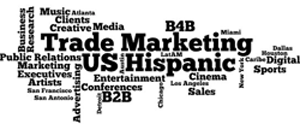 By Gene Bryan / CEO of Hispanic Media Sales, Inc., publisher of HispanicAd.com, Hispanic TV Programming Report, Hispanic Content, Data & Social Report and Hispanic Market Thought Leaders
Many in our industry do not know the history of the U.S. Hispanic advertising and marketing industry.
What occurred to me is that many in our industry are inherently oblivious to the history of the B2B and B4B trade journals dedicated to covering not only the U.S. Hispanic advertising and marketing industry, but also the U.S. Hispanic media, public relations and research industries.
Trade marketing coverage of Spanish-language advertising in the U.S. was virtually nonexistent until the late 1970s. One of the earliest reports on marketing and advertising to Hispanics we could find dates to September 19, 1966, as Broadcasting Magazine highlighted "The Spanish Market." A general look at a potential growing opportunity, the article included no research, and no ratings. CLICK HERE to view.
During the 1980s, mainstream trade journals continued to offer little, if any, coverage of the U.S. Hispanic Market opportunity. However, three industry-focused attempts began.
The first attempt to produce a trade journal came in 1982 when Eduardo Caballero, the founder of Caballero Spanish Media asked sales rep Lisa Skriloff (now Founder/President of Multicultural Marketing Resources, Inc.) to help create and edit a four-page newsletter called Hispanic Age. This was mailed to key executives. This was an inspiring attempt to help sell our market, our consumers and our industry at large. The newsletter was published from 1982-1984.
The second attempt came from Santa Barbara, Calif.-based Hispanic Business magazine, lead by publisher Jesus Echevarria. The magazine produced a special December issue focused on the U.S. Hispanic Market, the media involved, and the players in the marketing and advertising sector. This segment of Hispanic Business lasted for about a decade.
The third attempt at covering the U.S. Hispanic Market came from Advertising Age, which published a monthly half-page section dedicated to the U.S. Hispanic Market. This was done for only six months.
Others took notice of the growing U.S. Hispanic Market opportunity. In the late 1980s, Broadcasting Magazine sporadically featured a couple of articles regarding the growth of the market and the media.
THE TRUE START OF THE HISPANIC TRADE JOURNAL
In the early '90s, a new entry out of Chicago created and published by Kevin D. Jenkins, a sales representative for Caballero Spanish Media, arrived—Hispanic Media News.
Hispanic Media News was delivered via fax every Monday morning and included the little bits and pieces that could be found on our market and industry. This publication also suffered from a lack of traction and ad support. CLICK HERE to view.
Hispanic Media News was delivered to over 1,000 subscribers via fax every Monday morning.
Hispanic Media News was purchased in the 1990s by Hispanic radio veteran Herb Levin and another longtime Hispanic radio executive, Barrett Alley (then at Spanish-language News/Talk network Radio Unica).
With their acquisition of the newsletter, the name was changed to Hispanic Market Update. Arturo Villar, who had just left his post at VISTA magazine, was named Editor.
Several months later, Villar left Hispanic Market Update. In 1997, he decided to produce his own newsletter, named Hispanic Market Weekly.
Hispanic Market Weekly was delivered via fax each Monday to key executive subscribers. It became the first trade journal in our industry to create a platform that began to generate reader traction and attract advertising revenue. In fact, Hispanic Market Weekly was for a couple of years the only trade journal serving the U.S. Hispanic marketing and advertising world. Other players then arrived, offering readers more news, tools, resources and ROI for advertisers on a daily basis through digital platforms.
Over the years, Hispanic Market Weekly changed its delivery from a weekly fax to a weekly PDF delivered via e-mail, as other newsletters did as technology advanced. A website was launched – HispanicMarketWeekly.com – and the editorial staff was strengthened in the late 2000s with Cynthia Corzo overseeing the news product to better compete with new entrants in the trade journal space.
By 2009, Hispanic Market Weekly tried bold new platforms including video reports for CMOs hosted by Adam R Jacobson (who joined the team in September 2006), and launched siloed products including "CandidatoUSA," "CMO Essentials" and "HispanicSportsBusiness." Hispanic Market Weekly was ahead of its time in the trade marketing ecosystem by exploring these content silos.
By 2010, Hispanic Market Weekly experienced a scale-back, as the economic downturn shrunk the newsroom and advertising commitments for the trade journal declined.
In late 2015, HispanicMarketWeekly.com came to an end, with its familiar logo retired. In its place, with Arturo Villar at the helm, came the for-profit HispanicMarketWorks.org. The efforts of this publication mirror much of what had been done at "CandidatoUSA," with more political coverage than news about the U.S. Hispanic advertising and marketing industry.
OTHERS ENTER THE TRADE SPACE
The music industry had a dedicated publication focused on the U.S. Hispanic Market. In 1989, Alfredo Alonso (of WSKQ-FM "Mega 97.9" in New York) launched and published a tabloid-style magazine called Radio y Musica. An annual conference focused on Latin record labels and the Hispanic radio industry was launched by the trade publication. The publication lasted over a decade, before suffering from a lack of advertising support.
Under the advisement of then-Associate Editor Adam R Jacobson and a team of senior editors at Los Angeles-based Radio & Records(R&R), Radio y Musica was sold in 2000 to R&R. Jackie Madrigal retained her role as editor, with the free-standing publication becoming a dedicated section with the weekly R&R trade newspaper. Madrigal relocated from Washington, DC to L.A. to continue in the role.

Madrigal, with dedicated sales representative Linda Johnson, continued to provide a voice for the Latin music industry in the U.S. until August 2006, when R&R was acquired by Nielsen and merged into Billboard Radio Monitor. The resulting merger resulted in various staff departures and a consolidated publication; R&R published its final issue in June 2009.
In 1989, the creative forces in the U.S. Hispanic advertising industry paved the way for a publication founded and produced by the Izarra family—Produ.com . This publication targeted creative and production executives in Latin America, Spain and the U.S. Hispanic Market; a weekly U.S. Hispanic-focused section was launched.
U.S. Hispanic print and Latin American executives also enjoy a publication called Portada-Online.com, which at first was launched as a hard copy magazine and later changed to a digital delivery system. This entry into the trade journal space sees most of its traffic from Latin America. It has produced several small conferences, mainly focused on Latin America, to maintain its business model, with sporadic U.S. Hispanic Market exposure.
In 1996, Multicultural Marketing Resources, Inc (MMR) (which had been founded by Lisa Skriloff in 1994) began publishing The Source Book of Multicultural Experts printed directory and Multicultural Marketing News printed and mailed newsletter (now distributed by email via MMRNews) to help corporations by supplying information on multicultural marketing and diversity; providing referrals to multicultural communications firms and helping them publicize multicultural programs and diversity initiatives.
Additionally, the Public Relations industry in the mid-1990s enjoyed a publication titled "on the market with Hispanic PR" edited by Art Garcia on behalf of PRNewswire. The newsletter was delivered via fax to its subscribers. There is very little information on this trade journal, but many in the industry recall that it suffered from lack of advertiser support. CLICK HERE to view.
HISPANICAD.COM SEES ITS START
In 1998, Hispanic Media Sales, Inc. began publishing HispanicAd.com. Led by Eugenio (Gene) Bryan after a pivotal year working and learning about the internet business at OnRadio.com and 15+ year career in the US Hispanic Radio Industry.
The opportunity to create a business in the U.S. Hispanic advertising and marketing trade journal industry was obvious. But, the need to deliver content online to readers, in a fast and accurate manner, was the biggest impetus for HispanicAd.com's launch.
HispanicAd.com was designed exclusively as a digital publication, offering daily news, information and resources to U.S. Hispanic advertising, marketing, media, public relations and research executives.
HispanicAd.com became the catalyst for other trade journals to make the leap from old traditional delivery systems and limited content to the digital era, with expanded content.
The internet was growing, and most of HispanicAd.com 's subscribers of the time had only a Yahoo! or AOL email account. By the mid-1990s, companies began creating their first websites and using corporate emails. HispanicAd.com flourished, delivering more relevant content and ROI for readers and advertisers than any other U.S. Hispanic-focused trade journal on an instant basis.
The Internet Advertising Bureau (IAB) awarded HispanicAd and its founder the recognition of being one of the "Pioneers of the Digital Era" in the U.S. Hispanic Market for efforts in serving the industry.
HispanicAd.com enjoyed a boom from the growth of the internet and, as such, was the only digitally based U.S. Hispanic Market advertising, marketing, media, public relations, and research trade journal for many years. Throughout the last 17 years, investment in technology, partnerships and content platforms has paved the success for HispanicAd.com.
THE MAINSTREAM TRADE JOURNAL DISCOVERS THE HISPANIC MARKET
Adweek took note of the growing U.S. Hispanic Market opportunity. In September 2004, it launched a monthly printed and digital trade journal named Marketing y Medios.
Led by publisher Michael Hatherill and editor Laura Martinez, Marketing y Medios enjoyed instant recognition by our industry's executives, as a mainstream owned and operated advertising industry trade journal that offered a platform and coverage for the U.S. Hispanic-focused side of the industry.
The project was short-lived. By November 2006, Marketing y Medios failed to meet the advertising goals required to maintain a monthly magazine that had to be mailed to subscribers. Its limited digital platform was also a hindrance to growth.
While economic factors led to its brief existence, many U.S. Hispanic Market executives took issue with its editorial coverage and its failure to promote the industry. Advertiser support diminished soon after its launch.
In 2004, Advertising Age decided to create the annual Hispanic Fact Pack supplement. This supplement quickly became the industry's eagerly sought-after "facts" book.
Hispanic Media Sales, Inc. approached Advertising Age publisher Crain Communications, and assumed marketing and sales efforts for the supplement. This ensured a decade of reader traction, growth and profitability.
Advertising Age also had a section on its digital platform, AdAge.com, dedicated to the U.S. Hispanic Market advertising industry. It was recently ended. This followed a decision to end a partnership between the Advertising Age Hispanic Creative Awards competition and ahaa: The Voice of Hispanic Marketing for its annual conference in 2010.
The major mainstream advertising and marketing trade journals began abandoning their coverage of the U.S. Hispanic advertising and marketing industries due to their inability to produce profits. A lack of cultural insight and affinity to the market can also be pinpointed as a fault. At the same time, trade journals focused exclusively on the U.S. Hispanic Market gained traction, delivering comparable ROI for readers and advertisers.
OTHER VOICES THAT HAVE COME AND GONE
In 2001, PR Industry veteran Manny Ruiz launched Hispanic PR Monitor. This newsletter was delivered via PDF format to subscribers as a complement to his Hispanic PR Wire news service. The publication distributed its last edition in 2007, following the sale of Hispanic PR Wire to PR Newswire. CLICK HERE to view.
In 2009, Ruiz launched a new trade blog for Hispanic Market public relations professionals, using HispanicPRBlog.com as a platform to service the PR Industry and complement the newly launched social media and influencer event Hispanicize. Wire service Hispanicizewire was also launched to help promote the event. At present, the blog serves to promote its sister platforms.
In 2007 journalist Veronica Villafane launched MediaMoves.com, an online publication dedicated to highlighting the moves and accomplishments of Latinos in the media.
In the mid 2010s, Francisco Vargas began publishing a U.S. Hispanic creative publication titled Addictivo. Like many of the other trade journals discussed, it closed due to lack of reader traction, support and sales. Vargas currently serves as the general manager of Circulo Creativo, a non-profit association dedicated to highlight the creative discipline and talent in the U.S. Hispanic Market.

Over the years, Latin American-based trade journals (primarily from Argentina) have targeted the market on a sporadic basis, such as LatinSpots and AdLatina.com. Since 2015, we have seen other smaller mainstream trade journals begin to create sections that focus on the U.S. Hispanic advertising industry, such as Mediapost, MediaVillage and Cynopsis.
Will they continue, as trade marketing dollars are spent on those publications based on the same formula of reader traction and engagement? The verdict is still pending on their success and longevity.
At Broadcasting & Cable / Multichannel News, the Hispanic Television Update continues as a monthly electronically delivered TV-focused newsletter for subscribers, overseen by contributing editor Adam R Jacobson. The newsletter aligns with the NewBay Media publications' annual Hispanic TV Summit.
The Hispanic Television Summit was created by the Schramm Marketing Group for Multichannel News and Broadcasting & Cable.
The idea was initiated in 2002 by Joe Schramm and Larry Dunn (then-publisher of the two publications) by outlining the concept on a paper napkin in a restaurant.
The 14th Annual Hispanic Television Summit took place this past October 20, 2016 in New York City.
Schramm Marketing group has developed and produced this event every year for all 14 years.
Streamline Publications' Radio Ink magazine continues to stage an annual Hispanic Radio Conference that is dedicated to enhancing the U.S. Hispanic radio industry. The 2017 conference has already been announced, with new involvement from Streamline's digitally distributed Radio + Television Business Report.
NEW OUTLETS, WITH HIGH LEVELS OF ENGAGEMENT
Over the last decade, HispanicAd.com has created specialty supplements that offers readers and advertisers unique content silos that produce a high level of engagement.
Hispanic Media Sales, Inc. and HispanicAd.com in 2010 formed a sales and distribution partnership with veteran industry journalist Adam R Jacobson. As a result, Hispanic Media Sales, Inc. produces, manages, and represents the Hispanic Market Overview, published during AHAA annual conference; the Hispanic TV Upfront Report (now titled Hispanic TV Programmng Report), published during the mid-May TV Upfronts; and Hispanic CMO (now titled Hispanic Market Thought Leaders), curated by marketing veteran Gilbert Dávila – President & CEO at Dávila Multicultural Insights and published during the autumn ANA Multicultural Marketing & Diversity conference.
In 2016, HispanicAd, in association with AHAA: The Voice of Hispanic Marketing, published and sold the Hispanic Market Guide, a supplement offering key marketing charts and advertising agency digital reference guide. This project has been received by industry executives and advertisers alike in a very positive manner. It is now considered the U.S. Hispanic Market's advertising and marketing directory and the go-to supplement for demographics, media information, and research.
In 2017, HispanicAd.com will be expanding its supplements by publishing the inaugural Hispanic Social Report, to coincide with the annual Hispanicize conference. Additionally, HispanicAd.com plans to launch a new supplement, titled Hispanic Healthcare Report.
Through the efforts of Hispanic Media Sales, Inc. and HispanicAd.com, the U.S. Hispanic marketing and advertising industries enjoy a daily and instantly delivered online trade magazine for news and resources, along with specialty publications that define the "Thought Leadership" of our industry. With the content of other trade publications such as Produ.com, Portada-Online.com, HispanicPRblog.com and others, the Industry is enjoying full coverage.
The U.S. Hispanic advertising, marketing, media, public relations and research industry has yearned for coverage by mainstream trade journals.
Yet, Advertising Age and Adweek have dramatically reduced their coverage of the U.S. Hispanic Market in their printed and digital platforms.
With the new "Total Market" movement sweeping the marketing and advertising industries, the uniqueness and the ability to tailor and attribute success in the U.S. Hispanic Market is now being diluted and homogenized under this new movement at the detriment of unsuccessful efforts, incorrect assumptions, politically correct messaging and the need of mainstream agencies to unite budgets from their ethnic counterparts. This has also worked toward presenting a generic approach of Latino consumer advertising and marketing by mainstream trade journals.
We in the US Hispanic trade marketing industry have challenges.
Professionals and executives dedicated to making decisions in our industry continue to rely on industry specific publications for news, research and "Thought Leadership."
One thing hasn't changed. To succeed, you need "El Insight de la Tribu".
If you need a translation call me.
P.S. I enjoyed writing this piece. It allowed me to connect with true pioneers in the U.S. Hispanic Market Industry. I want to thank Kevin D. Jenkins, CRME / EVP of Corporate Sales at KKDA-FM and KRNB-FM in Dallas for his insight into why he developed Hispanic Media Update, Barrett Alley for his insight going forward with Hispanic Market Update, Hispanicize Media Group CEO Manny Ruiz for copies of the Hispanic PR newsletter and Hispanic PR Monitor and Michael Hatherill Group Brand Director at Stagnito Business Information. Additionally, I want to thank Adam R Jacobson, a veteran journalist and Hispanic Market and media connoisseur, for his support of our vision of informing our industry executives over the years.